Suppliers
We use local artisan suppliers for the best Irish seasonal produce.
John Stone Beef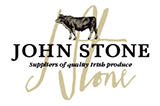 Suppliers of top quality Irish Beef and lamb
John Stone comes from a very long line of butchers and has been at the forefront of gourmet meat production for almost fifty years. Mastering his trade as a butcher early on in his career provided the necessary hands on knowledge to provide a top class service to the catering trade in the UK, when he took over his father's business Russell Meats in 1974. Realising that there was a growing market for quality meat in Europe he joined forces with William Donald, who owned an export approved slaughterhouse and cutting room, and together they launched Donald Russell. Quickly gaining a reputation for gourmet meats of unsurpassed quality, they began to supply a growing number of customers in highly reputed restaurants and hotels around the globe, from Brenners Park in Germany to Raffles Hotel in Singapore and The Grand Hotel in Monte Carlo.
John formed the National Association of Catering Butchers and was the founder chairman for 14 years. He has co-authored 'The Meat Buyers Guide' which helped streamline and formalise cutting specifications within the catering industry. This, along with other achievements, has gained him an MBE from the Queen of England for his services to the meat industry.
John has built his reputation on the combination of traditional specialist butchering skills, market driven service and continual business innovation that has become his trademark. Following the sale of Donald Russell in the UK to the Vestey Group in 2012 Donald Russell International was required to change its trading name, and it was this reputation that was the basis for renaming the company 'John Stone & Company'. Today he is proud to present a range of the finest dry aged, grass fed Irish beef and lamb that bears his name.
---
---
McGeough's Cured Meats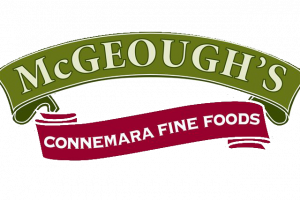 McGeough's Butchers was established in 1971 by my father, Eamonn McGeough. Originally from Monaghan, Eamonn moved to England in his twenties where he worked in a butcher shop on Edgeware Road, London. 15 years later, an advert in an Irish paper advertising a shop for sale in Ougherard, Co Galway caught his interest. In 1986 the McGeough family relocated to a small village in the West of Ireland, Oughterard. In 1990, I joined the business after spending six years training in Germany. Germany was a fantastic experience! Whilst it was where I met my wife Christa, training (German Masters Degree in Butchery) and living in Germany allowed me to learn new ways of doing things; it gave me the confidence to experiment and develop new products which include our award winning air dried and smoked meats and salamis.
From small beginnings in the West of Ireland, McGeough's Butchers is now one of Ireland's leading meat innovators."Of all the younger generation of Irish butchers, James McGeough may be the most distinctive and determined". John McKenna, Bridgestone Irish Food Guide (2007).

James McGeough, Owner Manager
Raised in Oughterard, Co Galway, James McGeough is a true Connemara Man. Following his pursuit for innovation and perfection, James moved to Germany for 6 years where he trained to become a German Master Butcher – a much sought after and respected title and the only Irish butcher to have this qualification.After 6 years, James moved to Ireland with his Master Butchery, enthusiasm and passion. Once home and settled in his fathers butcher shop, James began to experiment with local ingredients to produce products that could be described as being of German/Swiss origin. The result many years later are fantastic air dried and smoked meats.
---
---
Fagan Foods

Seamus Fagan, Moydrum Athlone, supplier of top quality Irish chickens, eggs and duck, since 1999.
---
Bell Lane Coffee
Bell lane Coffee is a new vibrant coffee roasting company established by Stephen Bell in September 2012, located in Mullingar Co Westmeath.
Stephen has built up considerable experience and skill working within the hotel and hospitality industry for five years and the coffee industry for the past seven years with one of Ireland's leading coffee roasters. This is where his love of coffee began and his dream of starting his own business seemed possible. Stephen took on the challenge of setting up Bell Lane Coffee, seeking outside advice from experts within the industry and listening to his peers on how to structure a new start up business in this ever demanding climate.
Stephen together with his master roaster have over 20 years' experience in the coffee industry from coffee-roasting, blending, new product development, training, distribution and sales. Stephen has also been trained to a Barista level and holds a Machenasti qualification. As a member of the SCAE (Speciality Coffee Association of Europe) we strive for excellence within this field.
---
---